"Stakeout" is the 11th episode of Season Two of the FOX television show Brooklyn Nine-Nine. It originally aired 14th December 2014 to 3.53 million viewers.
Episode Synopsis
Edit
Jake and Charles' bro-mance starts to crack when they volunteer for an eight-day stakeout in very close quarters. Meanwhile, Captain Holt's nephew, Marcus, comes to Brooklyn and captures Rosa's attention.
Cultural References
Edit
Charles' stakeout theme song is a direct parody of Eddie Money's "Take Me Home Tonight".
Hitchcock: Well, well, well! Looks like Boyle's out and Hitchcock's in! What do you wanna do tonight? Go to a strip club? Have dinner with my wife?
Peralta: Are those separate options, or does she live at the strip club?
Hitchcock: You wanna know you gotta go.
Charles: Stake me out tonight I don't want to let you go till we catch this guy.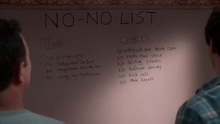 Charles and Jake's "no-no lists" read as follows:
| JAKE | CHARLES (jerk) |
| --- | --- |
| No pullups | No "Sister Act" |
| No Kwazy Cupcakes | NO "Sister Act 2" |
| No "dandruff blizzard" | No bird calls |
| No letting it mellow | No multilevel marketing schemes |
| No life hacks | No ballroom dancing |
| No saying "noice" | No male kegels |
| No butter syrup | No licking fingers before turning pages |
| No talking about Die Hard 1 2 and 3 or 4 or 5 | No jerks. |
| No using my toothbrush | No letting birds in! |
| No peanut butter anything from the jar | No unrequested lullaby |
| No spoilers | No puppets |
| No neck cracking | No rasta-man voice |
| No parkour | No eating with your mouth open |
| No jerks | No reciting poems |
| No calling legitimate business ideas schemes | No tea ceremonies |
| No cabbage patch | No lady style towels |
| No saying "been done" | No rhyming |
| No impressions | No eyelash wishes |
| No talking about your dumb car | No forts |
| No cheese powder fingers | No locking |
| No peanut butter on binoculars | No talking about your butt holes |
| No using jerky as toothbrush | No saying "uni" |
| No mocking my food ME!! | No fingerquotes |
| No red wedding | No gasp while reading |
| No comparing yourself to Idris Elba—favorable or not | No slurping noodles |
| No Running Man—movie or the dance | No grief [illegible] |
| No "De Niro" or "Walken" impressions | No rhythmic [illegible] |
| No added "Z"s to the end of words | No clubhouse |
| No complaining about "not seeing The Wire" | No whale songs |
| NO OVER SALTING!! | No dolphin songs |
| No peeling wallpaper | No manatee songs |
| No action movie reenactments | NO BATHS |
| No karate on the bed ANYWHERE | No Pig Latin |
| No beat boxing | No nose hair trimming |
| No talking ABOUT DEREK!! | No writing on my side of the wall! |
| No feet on my memory pillow | No yoga pants |
| No asking if things look infected! | No yoga |
| No air saxophone | No succulent |
| No popping | No spooning |
| No syrup shots | No air drying |
| No basketball pregnancies | NO LES MIS |
| No using my soap | No sleep laughter |
| | No saying "epic" |
| | No saying "epic fail" |
| | No making bugs your pets |
| | No sassy "nuh uh uhs" |