Jake Peralta
and
Sophia Perez
are former love interests that were in careers hated by the other. After having slept together, Jake discovers that Sophia is a defence attorney. However the two begin a relationship although eventually break up in
Windbreaker City
.
Overview
Edit
Jake meets Sophia and neither reveal their careers to each other.
Jake and Sophia have a good date, where they have a lot in common, and then sleep with each other.
Jake and Sophia meet again at a trial and are surprised to see each other.
Jake attempts to get Sophia removed from the case but it doesn't work.
Jake attempts to unnerve Sophia with air kisses but fails.
Sophia wins the case and Jake angrily says that he will never see her again.
Terry tells Jake to call Sophia.
Jake goes to Sophia's office and asks her out.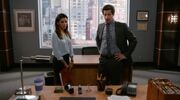 Jake invites Sophia to join him for the weekend when collecting a perp.
Sophia books them the room of 1000 dolls which Jake is happy about.
Jake asks Sophia to help Amy with Teddy.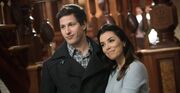 Sophia is surprised when she finds out Jake used to like Amy and leaves.
Jake apologises to Sophia and the two make up.
Sophia asks Jake to take a break as their relationship is affecting her job.
Jake accidentally says that he loves Sophia to Terry.
Jake goes to a party to charm Sophia's boss.
Jake arrests Sophia's boss for cocaine which angers Sophia.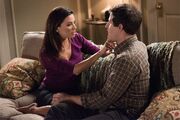 Jake attempts to win Sophia back as he says that he has accidentally said he loves her and is willing to make it work.
Sophia doesn't accidentally love Jake back and they break up.
Jake is upset over Sophia so Terry and Charles help distract him.