Charles-Vivian Relationship
Charles and Vivian meet.
Relationship:
Ex-Fiancées

First Kiss:
The Party
Key Episodes
Season One:
The Party

Charles Boyle and Vivian Ludley are ex-fiancées. They met in The Party and both had a lot in common. However the two broke up after disagreements over Canada.
Overview
Edit
Season 1 Edit
Charles and Vivian meet and bond over their love of food.
Vivian asks Charles if he's single, he reveals that he is.
Charles is very confident after his hook up, almost too confident.
Charles is worried that he will go "full Boyle" and will scare Vivian away so he asks for Jake's help to help him.
Charles and Vivian go on a double date with Jake and Vivian's friend, Bernice
Charles asks Vivian to meet his mother.
Vivian seems to be unnerved by Charles' "full Boyle" and goes to the bathroom.
Charles secretly buys Vivian and him tickets to Rome.
Charles plans to propose to Vivian but Jake stops him.
Jake sees that Vivian has left Charles a lot of texts, voice mails and missed calls.
Vivian worries that she scared Charles off by being too eager.
Charles proposes to Vivian and she accepts.
Charles reveals that he didn't invite Rosa because Vivian thought it would be weird.
Vivian later reveals that Charles said Rosa was out of town and she doesn't know that Charles used to love Rosa.
Charles and Vivian plan their wedding and want to have strange things such as spicy cake to show that their marriage will sizzle.
Vivian and Charles are planning to move to Ottawa for Vivian's job.
Jake helps Charles by telling Vivian that he doesn't think it's right for Charles.
Vivian gets offended by Jake and tells him that Charles is very excited.
Charles takes Vivian's side despite not wanting to move.
Charles talks to Vivian about not wanting to move but they don't break up.
Charles and Vivian are deciding whether or not to move to Canada but Charles can't find privacy to talk to Vivian.
Rosa and Gina show Charles' their secret bathroom so he can talk to Vivian in private.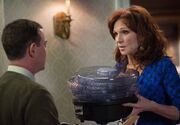 Charles and Vivian break up causing Charles to become depressed.
Vivian called Charles, "Chuck" and "Chucklebunny" when she broke up with him.
Boyle: And then, a skywriter's gonnna write Charles loves V. I couldn't afford her full name. (Full Boyle)
Boyle: I borrowed the waiter's phone when you weren't looking and bought me and Vivian plane tickets to Rome. (Full Boyle)
Ad blocker interference detected!
Wikia is a free-to-use site that makes money from advertising. We have a modified experience for viewers using ad blockers

Wikia is not accessible if you've made further modifications. Remove the custom ad blocker rule(s) and the page will load as expected.