Charles-Genevieve Relationship
Relationship:
Romantic interests


Dating Love Interests

First Kiss:
Boyle's Hunch
Key Episodes
Season Three:
Boyle's Hunch

Charles Boyle and Genevieve Mirren-Carter are a couple in Brooklyn Nine Nine. The two share a lot of strange habits in common and get together after Charles frees Genevieve from prison. The two decided to have a child and their adoption papers go through in Bureau.
In "Monster in the Closet" Charles tells Rosa that he wants to get married but Genevieve does not, due to a nasty divorce in the past.
Overview
Edit
Season 3 Edit
Charles and Genevieve meet and instantly get along.
Charles says that Genevieve is the perfect woman.
Charles decides to prove that Genevieve is innocent.
Charles frees Genevieve from prison.
Charles and Genevieve share a scarf after Charles 'accidentally' forgets his.
Charles and Genevieve decide to have a baby.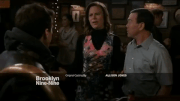 Charles and Genevieve look for sperm donors together.
Genevieve calls Charles to tell him their adoption papers have been accepted. After his case with Jake.
TBA
Ad blocker interference detected!
Wikia is a free-to-use site that makes money from advertising. We have a modified experience for viewers using ad blockers

Wikia is not accessible if you've made further modifications. Remove the custom ad blocker rule(s) and the page will load as expected.